For Our Media Friends
Find the resources you need to rave about Roadster.
Logo Guidelines
The Roadster trademark appears in either black or white. No other colors are permitted. The trademark has two configurations—Horizontal and Symbol.
The Roadster logo is precisely proportioned.
The logo's shape, proportion, and orientation must not be altered in any way. Clear space must surround the logo on all sides, so that no type, design, or photographic elements encroach on the logo.
---
Black Logo
White Logo
Black Symbol
White Symbol
---
Andy Moss
Founder + CEO
Andy is a serial entrepreneur with more than 20 years of expertise in launching and running successful online commerce companies, including Roadster. Before enabling commerce for cars, he founded FabKids, an online children's apparel company, which was acquired by JustFab; ShopStyle, the leading fashion search engine, which was acquired by POPSUGAR; and Cairo, an online service for retail discounts. He also held executive positions in business development at DemandTec and Ariba. Andy holds a Bachelor of Science degree from the University of Manchester, England.
First car: White Austin 1100
Current car: Porsche Macan
Dream car: 1963 e-Type Jaguar
Rudi Thun
COO
A Detroit native, Rudi turned his boyhood passion for cars into a career. He has been an executive leader in online automotive for more than 15 years. Prior to overseeing Roadster's daily operations, Rudi was Head of Vehicles for eBay Motors. Before eBay, Rudi was COO of CarWoo!, a VC-funded new car marketplace. And prior to that, he was VP and General Manager of AOL's automotive properties. Rudi's very first job was with Ford Motor Company. He earned a Bachelor of Science degree in mechanical engineering from Cornell University and an MBA from University of California at Berkeley.
First car: Two-tone 1977 Caprice Classic
Current car: 2011 BMW 335D
Dream car: 2016 Porsche 911 GT3
Michelle Denogean
CMO
Michelle is the Chief Marketing Officer at Roadster, where she oversees all marketing, insights, and analytics efforts. Prior to that, Michelle was CMO at Edmunds, where she led the integrated brand vision and set the marketing agenda for both consumer and dealer audiences. She has been part of the automotive community for almost 15 years. She is a boots-on executive who prides herself in having deep relationships with dealer partners around the country. She is an educator at heart and is always looking for ways to share best practices and inspire others.
First car: Honda Accord
Current car: BMW X5
Dream car: 1957 Chevy Bel Air
Dave Latham
VP, Product
Dave is responsible for Roadster's product development, including user research and experience. He's highly motivated by the idea that technology helps solve problems for people, and has spent the last 15 years trying to deeply understand the feelings, rationales (or lack thereof) and behaviors associated with car buying and ownership. Prior to teaming up with Roadster, he ran user experience and future products for TrueCar, pre- and post-IPO. He has also been an executive at CarWoo!, a VC-funded new car marketplace, as well as the leader of product for automotive ad firm, Jumpstart. Jumpstart was acquired by Hearst, where Dave also ran digital products for Car and Driver and Road & Track magazines. Dave holds a Bachelor of Science degree from the University of Oregon.
First car: Chevy S10 pickup
Current car: 1990 Porsche 911 (the first 2-wheel drive 964)
Dream car: 1957 Porsche 356 Speedster
Matt Wolf
CFO
Matt oversees all of Roadster's money matters. He's been a lifelong automotive enthusiast and has over a decade of financial experience working with both high-growth startups and leading global companies. Before joining Roadster, Matt was VP of Finance at Beepi, a VC-funded used car marketplace. He has also served as a senior advisor to several early-stage companies, where he helped drive financial and operational improvements, as well as successful fundraising. He began his finance career with the investment banking division of Morgan Stanley. Matt holds a Bachelor of Arts degree in economics from the University of Rochester, and an MBA from the Tuck School of Business at Dartmouth.
First car: Saab 900S
Current car: BMW E39 M5 & BMW E30 M3
Dream car: 1988 Porsche 959 S
Lisa Macnew
VP, People
Lisa is Roadster's people person — responsible for hiring, developing and retaining its team members. Her 15 years of experience in culture development and employee experience has enabled her to create winning talent strategies for Bay Area tech companies. Prior to Roadster, Lisa held HR leadership roles at POPSUGAR, Weebly and Leanplum. She earned a Bachelor of Arts degree in political science from the University of Maryland.
First car: Honda Civic
Current car: Mini Cooper Countryman
Dream car: 1967 Volkswagen Beetle Convertible
Kevin Lorell
VP, Customer Success
An automotive industry vet of 10 years, Kevin oversees implementation and technical support for all of Roadster's Express Storefront®. Prior to joining Roadster, he helped start and scale Tesla's Certified Pre-Owned and Remarketing programs. Before that, he worked at eBay Motors and Carmax. Kevin holds a Bachelor of Arts degree in psychology, as well as an MBA, from the University of Southern California.
First car: 1997 manual transmission Honda Accord
Current car: BMW i3
Dream car: Singer modified Porsche 911
Levon Sarkissian
VP, Business Development & Enterprise
Levon oversees the growth and development of Roadster's OEM and Enterprise partnerships, both in North America and around the globe. Prior to teaming up with Roadster, he spent many years as an equity analyst at an alternative investment fund, and later developed a used-vehicle selling tool called CarZar. Levon began his career in automotive as an account executive at Cartelligent. He graduated from the University of San Francisco with a Bachelor of Arts degree in Entrepreneurship.
First car: 1978 E-Z Go 400
Current car: BMW I3 / M4
Dream car: McLaren F1
Nick Villasenor
VP, Sales Strategy
Nick has been an influential automotive industry leader throughout his career and now heads up Sales Operations, Enablement and Training at Roadster. He grew up in a car-business family and enjoyed a 15 year run in auto sales and sales leadership prior to joining Roadster. During that time, Nick led Cobalt's National and Enterprise sales teams, as well as large field and inside sales organizations for the Digital Marketing businesses. He also oversaw CDK's entire inside sales organization across both Retail and Digital divisions. At Roadster, Nick supplies the Sales and Business Development teams with insights and strategies to help dealers optimize their success on the Express Storefront platform.
First car: 1979 Chevy Citation
Current car: Chevy Tahoe
Dream car: Black, 1969 Chevrolet Corvette Stingray
---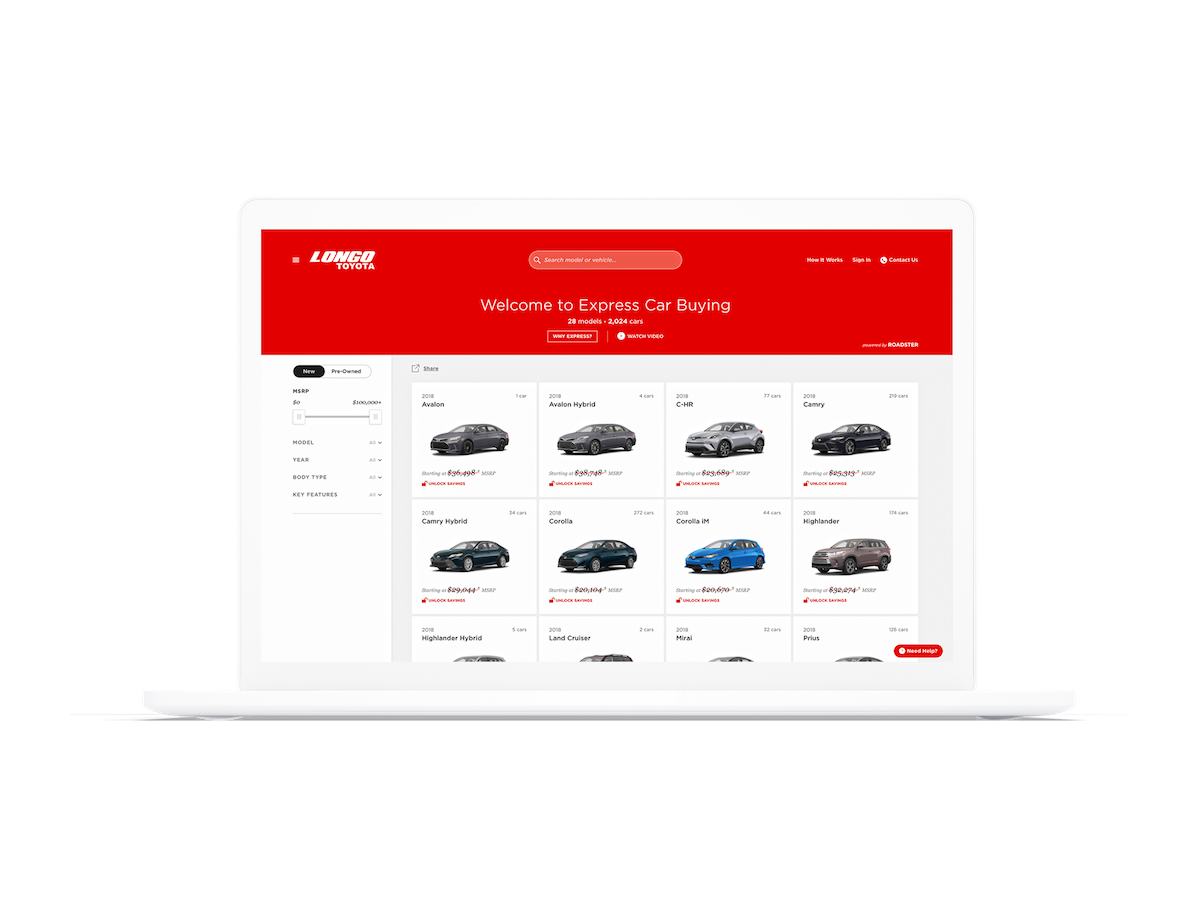 Inventory Page
Vehicle Detail Page - Lease
Service & Protection Plan
Your Order
Share
Multi Devices
Vehicle Detail Page